15 Apr

Emerging Adolescence

I remember my teenage years as unbelievably fun, adventurous, traumatic, disorienting, scary, exciting, disappointing; basically an emotional roller-coaster which in retrospect appears to highlight the spectrum of life and pendulation concepts I've come to understand through Somatic Experiencing®.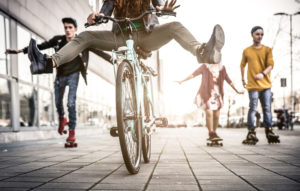 The Emerging Adolescent Nervous System
Working with kids experiencing problems with substance abuse and mental health challenges, I have discovered that their emerging nervous systems return to health and wellbeing through teaching them how to track and witness their experiences.
There usually is a considerable amount of disruption to the system; often times the environment has been unpredictable, invalidating, and even abusive. Not to be ignored, teens are often in unpredictable homes and situations as well.
What resources are available for adolescents?
Adolescents who have experienced a disruption in their nervous system typically have developed fewer tools or coping skills than adults. These "unresolved resources" can contribute to the challenges which become overwhelming for some teens. Fortunately, a young person's resilience can be their greatest asset. The essence of their resiliency lies in each person's implicit need for coherence, the biological desire for rightness, found in each person, and adolescents have this resource in spades. I call this "okay-ness".
 While working to build a client's capacity to renegotiate unprocessed events, I have found the greatest resources for teens are friends, music and movement. This isn't surprising. A treatment plan utilizing both resources can usually be agreed upon with all relevant parties.
Friendship. Being in relationship with like-minded peers. Social engagement is a definite resource; everything about processing the emotional life-events of being a teenager with a friend is intelligent in the biological and somatic sense. The end result is an increase in orientation, resourcing and an overall ability to tolerate and process dysregulation.
Music and Movement. As teenagers, we often find hundreds of ways to differentiate ourselves from our parents and other adults. One of the most prominent forms of this is by music and movement. Music defines who we are as young people — certain songs will recall specific memories, good and bad. Regardless of the associations, music is a way we can connect to the environment, it can take us out of our heads, solidify and potentiate connections between affect, thought, sensation. This goes for movement as well. Encouraging this with teens has the power of strengthening coping skills, increasing the ability to weather the storms of the teenage world.
The most important aspect of a teen's life is their alive-ness through connection with community, friends, music and movement. I like to find ways to invite these components into their lives on a daily basis. In that way, I can better work with their nervous systems to help release immobility or anxiety.